LINE-TECH
The company was founded in 2009. As an engineering and design office, we provide a wide range of services in the area of: design as well as technical consulting and production of prototypes of machines and devices at the customer's individual request.
---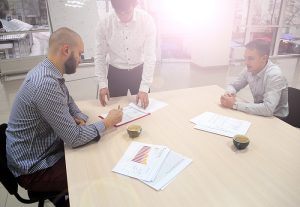 We also provide support to companies who wish to develop their products but are not equipped with adequate engineering resources or simply don't have a research and development division. A wide range of contacts and close cooperation with scientific institutions and companies both in Poland and abroad enable us to successfully face the most demanding technical and technological challenges.
The Company's engineering staff is an interdisciplinary team of specialised constructors who have extensive experience in research and development projects in the field of: mechanics, power hydraulics, pneumatics as well as automation and robotics. The know-how, experience and skills of our employees and the constructors who work with us enable us to develop unique products based on innovative, yet simple solutions.